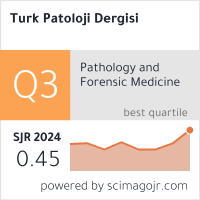 This journal is a member of, and subscribes to the principles of, the Committee on Publication Ethics (COPE)
2000, Volume 16, Number 1-2, Page(s) 025-026

FOCAL PREGNANCY-LIKE CHANGES IN HUMAN BREAST TISSUE (PSEUDO-LACTATIONAL CHANGES) (11 CASES)

E. Burçin TUNA, Feza KIRIMCA, Banu LEBE, Esra ÖZKARA, Tülay CANDA

Dokuz Eylül Üniversitesi Tıp Fakültesi Patoloji Anabilim Dalı

Pregnancy-like changes make up about 3.1-3.7 percent of all breast tissue examined. There is no association between the pregnancy-like changes and other breast pathology. This morphologic curiosity of the breast worth knowing about, not because of its clinical significance but because it can simulate other conditions of greater importance. Pregnancy-like changes are seen in one or several lobules in the absence of pregnancy or hormonal manipulation. The cause is unknown. In this study, 11 cases of pregnancy-like changes diagnosed in our department are presented and clinicopathologic characteristics are discussed. The patient's ages ranged from 25 to 56 years (median 43.1). In our cases, focal pregnancy-like changes were present in 11 women who were not receiving drug theraphy.