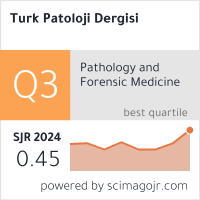 This journal is a member of, and subscribes to the principles of, the Committee on Publication Ethics (COPE)
DOI: 10.5146/tjpath.2022.01587
Impact of COVID-19 Pandemic on Pathology Residency Program: An Experience from India
Arti KHATRI1, Somshankar CHOWDHURY1, Dipti SIDAM2, Sonali MALIK3, Toshali PANDEY4, Sumanashree MALLAPPA5
1Department of Pathology, Chacha Nehru Bal Chikitsalaya, DELHI, INDIA
2ESI Medical College, HARYANA, INDIA
3Gajra Raja Medical College, GWALIOR, INDIA
4Maulana Azad Medical College, DELHI, INDIA
5Kodagu Institute of Medical Sciences, KARNATKA, INDIA
Keywords: Coronavirus, COVID-19, Pandemic, Pathology, Learning, Residency
---
Objective:
To study the impact of the COVID-19 pandemic on pathology residents through a questionnaire-based survey.
Material and Method: We designed a Google survey questionnaire with 20-questions and distributed it to the pathology residents across India via e-mail and WhatsApp. All the responses collected were analysed using appropriate statistical methods.
Results: We received a total of 81 responses. The majority (n=55, 68.8%) of the residents were aged 26-30 years with a male-female ratio of 1:2.2. Residents reported a significant decrease in classes as compared to pre-covid times. However, most institutions (90%) shifted to the virtual method for various teaching sessions. About 94.7% of the residents felt a fall in the quality of training due to Covid. A significant number of junior residents (76.92%) reported an inability to complete the target thesis enrolment. The residents saw a substantial decrease in the number of peripheral smears, bone marrow, cytology, and histopathology cases compared to pre-Covid times (p value <0.001 for all). An overwhelming 83.8% of the pathology residents were posted for COVID-19 duties. About 48.8% turned Covid positive. About 77.5% (n=62) of residents felt that the necessary training period would be extended.
Conclusion: The COVID-19 pandemic has immensely affected the training and teaching of pathology residents in India. Similarly, this pandemic must have affected pathology residents all across the globe. Therefore, institutions can consider offering an extended period of up to one year, depending upon residentsí requests.
---