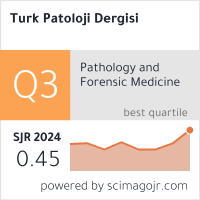 This journal is a member of, and subscribes to the principles of, the Committee on Publication Ethics (COPE)
DOI: 10.5146/tjpath.2023.01608
Clinicopathologic Evaluation of CD80, CD86, and PD-L1 Expressions with Immunohistochemical Methods in Malignant Melanoma Patients
Esra COBANKENT AYTEKIN1, Betul UNAL2, Cumhur Ibrahim BASSORGUN2, Ozlenen OZKAN3
1Department of Pathology, Konya Numune Hospital, KONYA, TURKEY
2Department of Pathology, Akdeniz University, Faculty of Medicine, ANTALYA, TURKEY
3Department of Plastic and Reconstructive Surgery, Akdeniz University, Faculty of Medicine, ANTALYA, TURKEY
Keywords: CD80, CD86, Immunopathology, Melanoma, PD-L1
---
Objective:
Diagnostic and prognostic biomarkers for malignant melanoma are crucial for treatment and for developing targeted therapies. Malignant melanoma is a highly immunogenic tumor, and its regression, treatment, and prognostic evaluation are directly related to escape from immune destruction. Therefore, we aimed to determine the expression levels of CD80, CD86, and PD -L1 in malignant melanoma tissue samples by immunohistochemistry and to investigate the possible relationship between these proteins and the clinicopathological features in this study.
Material and Methods: Hematoxylin and eosin staining and immunohistochemical staining for CD80, CD86, and PD-L1 were evaluated for clinical data, survival, prognosis, tumor location, malignant melanoma subtypes, tumor size, and prognostic findings.
Results: Higher survival rates were observed in patients with lower PD-L1 staining scores in the tumor. The 5-year survival was higher in patients with CD80-positive and CD86-positive biopsies. Mortality was lower in superficial spreading melanoma and Lentigo maligna melanoma types, whereas staining positivity of CD80 and CD86 was higher. Furthermore, a relationship between clinical stage and Breslow thickness (<2mm/≥2mm), tumor ulceration, lymph node metastasis, and CD80 and CD86 expression was also identified.
Conclusion: Our findings suggest that PD-L1, CD80, and CD86 expression are essential in malignant melanoma and could be used as prognostic markers.
---