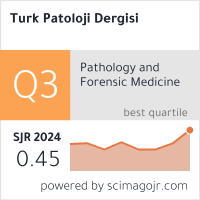 This journal is a member of, and subscribes to the principles of, the Committee on Publication Ethics (COPE)
2003, Volume 19, Number 3-4, Page(s) 057-059
WHEN THERE IS AN INTRAUTERINE DEVICE HISTORY IN AN ATYPICAL CERVICOVAGINAL SMEAR.
Özlem AYDIN, Ayşe POLAT, Canten TATAROĞLU
Mersin Üniversitesi Tıp Fakültesi Patoloji Anabilim Dalı
---
Because of the mechanical effect of int-rauterine device, atypical glandular cells mimicking adenocarcinoma and atypical squamous cells mimicking squamous intraepithelial lesion may be seen. The aim of the study is to examine the cytomorphological findings in cervicovaginal smears associated with an intrauterine device. Cervicovaginal smears were taken from 60 users of intrauterine device. The slides were stained with Papanicolaou. No sign of intraepithelial lesion or malignancy were observed in 99.6% cases. The cytological diagnoses was atypical squamous cells of undetermined significance in 1.6% and atypical glandular cells in 1.6% cases. In these cases cytologic atypia disappeared in a period of 3 to 4 months after removal of the intrauterine device. One should be careful because of the difficulty in differential diagnosis between reactive cytomorphological changes and dysplastic or neoplastic process in a cervicovaginal smear from the cervicavaginal smears of intrauterine device users.
---