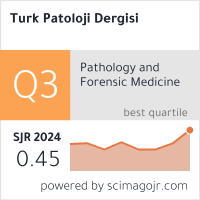 This journal is a member of, and subscribes to the principles of, the Committee on Publication Ethics (COPE)
2010, Volume 26, Number 2, Page(s) 159-161
DOI: 10.5146/tjpath.2010.01015
"Russell Body" Gastritis: A Case Report
Ahmet MİDİ1, Çiğdem ATAİZİ ÇELİKEL2, Handan KAYA2
1Department of Pathology, Marmara University, Faculty of Medicine, İSTANBUL, TURKEY
2Department of Pathology, Marmara University, Faculty of Medicine, İSTANBUL, TURKEY
Keywords: Russell body, Gastritis, Helicobacter pylori, Mott cells
---
Our case was a 50-year-old female who presented at the outpatients department with dyspeptic symptoms. Microscopical examination of mucosal samples from the corpus and antrum showed widespread Helicobacter pylori within the superficial mucus network, marked neutrophilic cryptitis, widespread reactive/regenerative crypt hyperplasia, intestinal metaplasia, and increased lymphoplasmocytoid cells and plasma cells full of immunoglobulin in the lamina propria. Immunohistochemical staining showed the plasma cells to be CD3 (-), CD20 (-), CD79a (+), CD45 (+), Kappa (+), and Lambda (+).
It is possible for a dense accumulation of Russell bodies to be observed on a background of H. pylori taking into account that Russell bodies contain immunoglobulin aggregates and side products of immunoglobulin synthesis. However, there are only a limited number of articles evaluating this aspect.
We present a case to contribute to the few articles on Helicobacter gastritis characterized by an inflammatory reaction rich in ''Russell'' bodies.
---