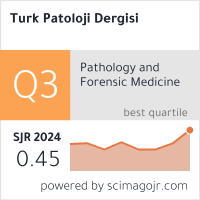 This journal is a member of, and subscribes to the principles of, the Committee on Publication Ethics (COPE)
2017, Volume 33, Number 3, Page(s) 262-267
DOI: 10.5146/tjpath.2014.01299
Benign Malformative Lesion of the Skull: Hamartoma with Ectopic Elements or Choristoma?
Ece MERAM1, Hakan KARABAĞLI2, Christine GLASTONBURY3, Tarik TİHAN1, Pınar KARABAĞLI4
1Department of Pathology, UCSF, SAN FRANCISCO, USA
2Department of Neurosurgery, Selçuk University Faculty of Medicine, KONYA, TURKEY
3Department of Radiology, UCSF, SAN FRANCISCO, USA
4Department of Pathology, Selçuk University Faculty of Medicine, KONYA, TURKEY
Keywords: Hamartoma, Choristoma, Ectopic tissue, Heterotopic tissue, Skull
---
Hamartoma and choristoma are terms that describe non-neoplastic, mass-forming malformative lesions. Although each lesion has a different composition, they have been used interchangeably in many reports, especially for malformative lesions containing ectopic or heterologous elements. We report a three month-old girl who was brought to the clinic with a mass lesion at the posterior fontanel, composed of predominantly osteo-cartilaginous tissue admixed with skeletal muscle, peripheral nerve tissue, and ganglion. The mass was resected completely. The composition of this benign lesion with ectopic elements was consistent with an osteo-cartilaginous hamartoma. We discuss the biological and clinical aspects such malformative lesions within the skull to highlight the inconsistencies of the nomenclature used in the literature.
---