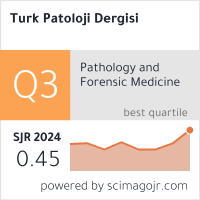 This journal is a member of, and subscribes to the principles of, the Committee on Publication Ethics (COPE)
2020, Volume 36, Number 3, Page(s) 195-204
DOI: 10.5146/tjpath.2020.01487
The Clinicopathological Significance of Basal Markers in Early-Stage Invasive Carcinoma of No Special Type of the Breast
Fikret DIRILENOĞLU1, Demet ARIKAN ETIT2, Halil TAŞKAYNATAN3, Ferhan ELMALI4
1Department of Pathology, Near East University, Faculty of Medicine, NICOSIA, CYPRUS
2Department of Pathology, Katip Celebi University Izmir Ataturk Training and Research Hospital, IZMIR, TURKEY
3Department of Oncology, Katip Celebi University Izmir Ataturk Training and Research Hospital, IZMIR, TURKEY
4Department of Biostatistics, Katip Celebi University Izmir Ataturk Training and Research Hospital, IZMIR, TURKEY
Keywords: Basal marker, Cytokeratin 5/6, EGFR, Early-stage breast cancer, Molecular subtype
---
Objective:
Basal markers [cytokeratin 5/6 (CK5/6) and epidermal growth factor receptor (EGFR)] are used in identifying the basal-like breast carcinoma subtype, which is associated with a poor prognosis. However, the clinicopathological significance in early-stage invasive carcinoma of no special type (IC, NST) has not been well established.
Material and Method: In a five-year period, 133 female patients with early-stage IC, NST with a median follow-up time of 89 months were included. The immunohistochemistry-based molecular subtypes were identified according to ASCO/CAP guidelines in 2013. The cutoff values for basal positivity were determined as 10% for each marker.
Results: Basal positivity was recorded in 83.3% (5/6) of triple-negative breast cancers, 50% (2/4) of HER2-enriched, 18.6% (13/70) of luminal B, and 8.3% of luminal A (4/48) subtype. CK5/6 and EGFR positivity were significantly associated with ER negativity (p < 0.001). EGFR positive cases were significantly associated with PR negativity and HER2 positivity compared to negative cases. However, basal positivity was not associated with the patient outcome (p = 0.006 and p = 0.004, respectively).
Conclusion: Basal positive IC, NSTs were associated with hormone receptor negativity and HER2 overexpression; these patients would therefore be less likely to respond to hormonotherapy and more likely to benefit from anti-HER2 treatment as well as dual-kinase inhibitors. The lack of standardization of the definition of basal marker positivity may contribute to the conflicting results of prognostic studies. Hence, further studies focusing on developing a standard protocol for determining basal marker positivity are needed not only for IC, NST but also for other histological types of breast cancer.
---