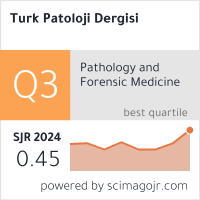 This journal is a member of, and subscribes to the principles of, the Committee on Publication Ethics (COPE)
2020, Volume 36, Number 3, Page(s) 211-217
DOI: 10.5146/tjpath.2020.01490
Male Breast Cancer: Clinicopathological, Immunohistochemical and Radiological Study
Bermal HASBAY1, Filiz AKA BOLAT1, Hüseyin Özgür AYTAÇ2, Murat KUŞ2, Ayşin POURBAGHER3
1Department of Pathology, Başkent University, Faculty of Medicine, ADANA, TURKEY
2Department of General Surgery, Başkent University, Faculty of Medicine, ADANA, TURKEY
2Department of Radiology, Başkent University, Faculty of Medicine, ADANA, TURKEY
Keywords: Male breast cancer, Diagnosis, Survival
---
Objective:
To evaluate the pathological and radiological features, immunohistochemical profile and treatment methods of primary male breast carcinoma cases diagnosed at our center.
Material and Method: The pathology archive between 2006 and 2019 was reviewed and the data of 27 male patients diagnosed as primary breast cancer were retrospectively evaluated.
Results: The age of the patients ranged between 40-86 years. The left breast was involved in 17 patients. The mean tumor diameter was 2.35 ± 1.09 cm. Of the 27 cases, 8 were dead and 19 were alive. The mean follow-up duration was 37.45 ± 24.84 months. The mean estimated life expectancy was 65±14.7 months. The most common complaint was a swelling in the breast. The time interval between the onset of complaints and admittance to hospital ranged from three months to two years. The most common histopathological diagnosis was invasive carcinoma - no special type. The most common surgical procedure was mastectomy with lymph node dissection. Nine patients had metastatic lymph nodes. In terms of the hormone profiles, 24 were Estrogen receptor positive, 21 were Progesterone receptor positive and six were Her2/neu positive. Three patients had triple-negative tumors.
Conclusion: Male breast carcinoma is a rare disease but its frequency has been increasing recently. As breast cancer is more commonly attributed to women, the diagnosis is usually delayed until later stages in males. Public awareness should therefore be increased and breast cancer should be considered in the differential diagnosis especially in the presence of breast swelling and complaints related to the breast skin so that the appropriate biopsy can be obtained without delay.
---