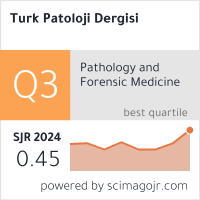 This journal is a member of, and subscribes to the principles of, the Committee on Publication Ethics (COPE)
2021, Volume 37, Number 1, Page(s) 026-031
DOI: 10.5146/tjpath.2020.01497
Stromal Lymphoid Response Status in Micropapillary Urothelial Carcinomas Diagnosed in Bladder Transurethral Resections and its Comparison with Conventional Urothelial Carcinomas
Ezgi HACIHASANOŠLU1, Ušur YÜCETAŽ2, Ošuzhan OKĒU3, Kemal BEHZATOŠLU4
1Department of Pathology, Yeditepe University Faculty of Medicine, ISTANBUL, TURKEY
2Department of Urology, University of Health Sciences, Istanbul SUAM, ISTANBUL, TURKEY
3Department of Pathology, Recep Tayyip Erdogan University, Faculty of Medicine, RIZE, TURKEY
4Acibadem Health Group, ISTANBUL, TURKEY
Keywords: Micropapillary urothelial carcinoma, Stromal lymphoid response, Transurethral resection, Urothelial carcinoma, Bladder
---
Objective:
Micropapillary urothelial carcinoma is an aggressive variant of urothelial carcinoma. Evidence suggests that the relationship between the tumor and inflammatory cells is important in tumor progression and the treatment response. We evaluated the stromal lymphoid response in micropapillary urothelial carcinomas and compared it with conventional urothelial carcinomas.
Material and Method: Among bladder transurethral resection materials diagnosed as 'invasive urothelial carcinoma' between January 2010-March 2017, cases with at least 5% micropapillary urothelial carcinoma were evaluated for age, gender, grade, stage, micropapillary urothelial carcinoma percentage, presence/percentage of accompanying conventional urothelial carcinoma/urothelial carcinoma variants, in situ urothelial carcinoma/micropapillary urothelial carcinoma, lymphovascular invasion, necrosis, and stromal lymphoid response. Stromal lymphoid response was scored as 0-1-2-3. All parameters were evaluated in 50 pure conventional urothelial carcinomas.
Results: Among 47 micropapillary urothelial carcinomas, 41 were male. The mean age was 69 years. pT1/pT2 was 23/24. Six cases were pure MPUC. Lymphovascular invasion was present in 8, necrosis in 9 cases. Stromal lymphoid response was present and scored as 1-2-3 in 32 micropapillary urothelial carcinomas (68.1%) and 48 conventional urothelial carcinomas (96%). Micropapillary urothelial carcinomas had significantly higher lymphovascular invasion and pT2 rates and lower stromal lymphoid response.
Conclusion: Low stromal lymphoid response in micropapillary urothelial carcinomas can be responsible for the poor clinical outcome and impaired response to treatment of these tumors. This is the first study in the English literature to demonstrate a lower stromal lymphoid response rate in micropapillary urothelial carcinomas compared to conventional urothelial carcinomas.
---