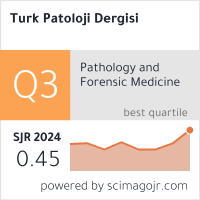 This journal is a member of, and subscribes to the principles of, the Committee on Publication Ethics (COPE)
2007, Volume 23, Number 3, Page(s) 160-163
Primary renal myxoma: A case report
Filiz BOLAT1, Tahsin TURUNÇ2, Fazilet KAYASELÇUK1, Şerife ULUSAN3, Nebil BAL1
1Başkent University Faculty of Medicine, Department of Pathology, ANKARA
2Başkent University Faculty of Medicine, Department of Pathology, ANKARA
3Başkent University Faculty of Medicine, Department of Radiology, ANKARA
Keywords: Kidney, myxoma
---
Myxomas are uncommon soft-tissue neoplasms, which are extremely rare in the kidney with ten cases reported in the literature.
A 27-year-old woman was admitted to our hospital with epigastric pain and pelvic mass. Magnetic resonance imaging (MRI) of the abdomen showed a well defined 15x14x7 cm tumoral mass in the left kidney. The patient underwent a left-sided nephrectomy. On microscopic examination, the tumor consisted of large amounts of myxoid material containing a few uniformly scattered spindle cells. Immunohistochemically, tumor cells stained positive for vimentin, but not for S-100 protein, epithelial membrane antigen, pancytokeratin and smooth- muscle actin. With these histopathological and immunohistochemical findings, the case was diagnosed as 'renal myxoma'.
In this report, the clinical and histopathological findings, differential diagnosis and possible histogenesis of a case of myxoma that was originated from the left kidney of a 27 year-old female patient is presented.
---