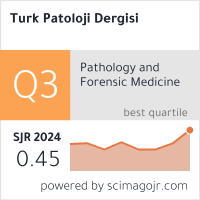 This journal is a member of, and subscribes to the principles of, the Committee on Publication Ethics (COPE)
2021, Volume 37, Number 1, Page(s) 018-025
DOI: 10.5146/tjpath.2020.01508
Löwenstein-Buschke: Clinicopathologic Analysis of 78 Cases of Large and Giant Condyloma Acuminata of the Anus
Orhun CIG TASKIN1, Burcin PEHLIVANOGLU2, Michelle D. REID2, Theodore FRIEDMAN2, Michael LEE2, Talaat S. TADROS2, Sudeshna BANDYOPADHYAY3, Josephine AKINFOLARIN3, Ayse ARMUTLU1, Olca BASTURK4, Volkan ADSAY1
1Department of Pathology, Koç University Hospital, ISTANBUL, TURKEY
2Department of Pathology and Laboratory Medicine, Emory University School of Medicine, Atlanta, GA, USA
3Department of Pathology, Wayne State University, Detroit, MI, USA
4Department of Pathology, Memorial Sloan Kettering Cancer Center, New York, NY, USA
Keywords: Condyloma acuminata, Giant, Anus, Buschke-Lowenstein, Squamous cell carcinoma
---
Objective:
The nature and clinicopathologic associations of Löwenstein-Buschke disease are unclear.
Materials and Methods: 78 anal condylomatous lesions (≥2 cm) were analyzed. Cases were classified based on size as "medium-large"(2-5 cm, n=59), "large" (5-10 cm, n=13) and "giant" (>10 cm, n=6).
Results: Patients were predominantly males (male/female=70/8). The mean age was 38 years (range:20-66). Two distinct lining types were recognized: 1) Epidermal type, typically lacking overt koilocytotic change, with associated invasive carcinoma in 8%; 2) Mucosal type, often manifesting koilocytotic change, with associated invasive carcinoma in 21%. Three types of high-grade dysplasia were discerned: 1) Basaloid, 8/9 showing high-grade dysplasia/carcinoma in-situ but non-invasive lesions; 2) Keratinizing, innocuous-appearing, but 5/6 was associated with invasion; 3) Giant cell, showing scattered individual bizarre cells, with 3/5 showing invasive carcinoma. Overall, invasion was found in 14% of the cases. The bulbous, broad-based destructive pattern characterizing verrucous carcinomas of the upper aerodigestive tract was not observed. A statistically significant trend existed between the incidence of invasion and size: 8.5% for medium-large, 23% for large, and 50% for giant (p=0.02). There was no discernable trend in the depth of invasion relative to condyloma size.
Conclusions: Our findings suggest that Löwenstein-Buschke lesions are mega versions of conventional condyloma. Being verrucoid, large and minimally invasive, they can be conceptually regarded as a form of verrucous carcinoma, but they do not display the histologic characteristics of verrucous carcinoma defined in the aerodigestive tract. They exhibit two types of linings: the mucosal type that often shows koilocytotic changes, and the epidermal type that can be difficult to recognize in biopsies. These lesions may be associated with invasive carcinoma, albeit limited in amount.
---