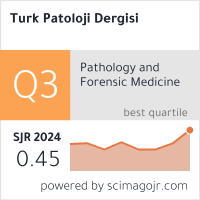 This journal is a member of, and subscribes to the principles of, the Committee on Publication Ethics (COPE)
2021, Volume 37, Number 2, Page(s) 121-129
DOI: 10.5146/tjpath.2020.01516
Clinicopathological Features and Treatment Challenges in Triple Negative Breast Cancer Patients: A Retrospective Cohort Study
Amira ELWAN1, Aziza E. ABDELRAHMAN2, Ahmed A. ALNAGAR3, Mohamed I ABDELHAMID4, Nashwa NAWAR1
1Department of Clinical Oncology and Nuclear Medicine, Zagazig University, Faculty of Medicine, ZAGAZIG, EGYPT
2Department of Pathology, Zagazig University, Faculty of Medicine, ZAGAZIG, EGYPT
3Department of Medical Oncology, Zagazig University, Faculty of Medicine, ZAGAZIG, EGYPT
4Department of General Surgery, Zagazig University, Faculty of Medicine, ZAGAZIG, EGYPT
Keywords: Triple negative breast cancer, Androgen receptor, Capecitabine, Bicalutamide
---
Objective:
As the genetic and molecular profiles of triple negative breast carcinoma (TNBC) are elucidated, multiple therapeutic targets have been produced. TNBC with less than 1% androgen receptor (AR) expression may respond to enzalutamide with greater response association in higher levels. A metronomic dose of capecitabine and docetaxel are effective developed drugs for angiogenic process inhibition. We aimed to demonstrate the treatment outcome of triple-negative breast cancer patients in correlation to their clinicopathological features.
Materials and Methods: A retrospective cohort study of 80 TNBC patients was conducted. The patients underwent proper observation with the reporting of their treatment and follow-up data. Patients with a metastatic disease, neoadjuvant chemotherapy, follow-up drop or data shortage were excluded from the survival analysis.
Results: The study results revealed a significant association between negative androgen expression and younger age ≤35 years, premenopausal status, higher grade, extracapsular extension, lymphovascular invasion, Ki 67, and CA15-3 (p=0.003, 0.02, <0.001, 0.001, 0.027, 0.005, 0.009 respectively). The three-year overall survival (OS) in patients who received bicalutamide was better than those patients who received capecitabine or docetaxel but of no significance (p=0.46). The three-year disease free survival (DFS) was significantly better in the bicalutamide arm versus the other two groups (p=0.012).
Conclusions: We concluded that extended adjuvant antiandrogen such as bicalutamide and metronomic capecitabine are well tolerated with accepted compliance and affordability compared to docetaxel and are warranted for problem-solving and better DFS and OS in some TNBC patients.
---