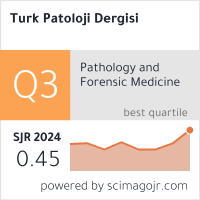 This journal is a member of, and subscribes to the principles of, the Committee on Publication Ethics (COPE)
2021, Volume 37, Number 3, Page(s) 203-211
DOI: 10.5146/tjpath.2021.01529
Metastases to the Stomach: Clinicopathologic Features of Metastases Mimicking Gastric Primaries
Ali Yılmaz ALTAY1, Melek BÜYÜK1, İlker ÖZGÜR2, Ali Fuat Kaan GÖK2, Bilger ÇAVUŞ3, Esra AYDIN4, Sezai VATANSEVER4, Mine GÜLLÜOĞLU1
1Department of Pathology, Istanbul Faculty of Medicine, Istanbul University, ISTANBUL, TURKEY
sup>2Department of General Surgery, Istanbul Faculty of Medicine, Istanbul University, ISTANBUL, TURKEY
3Department of Internal Medicine (Gastroenterology), Istanbul Faculty of Medicine, Istanbul University, ISTANBUL, TURKEY
4Institute of Oncology, Istanbul University, ISTANBUL, TURKEY
Keywords: Metastasis, Stomach, Metastatic carcinoma, Endoscopy, Gastric mass
---
Objective:
Metastatic involvement of the stomach is a rare event. Our aim in this study was to document the clinicopathological findings in patients with gastric metastases and find out if there are any potentially significant features to be used in the differential diagnosis.
Material and Method: Our cohort consisted of 17 histologically verified gastric metastasis cases. Clinical, endoscopic and microscopic features were retrospectively analyzed.
Results: The primary sites were the breast, skin, lungs, ovaries, colon, and gluteal soft tissue. Three patients were symptomatic because of the metastatic involvement of the stomach and 9 patients had concomitant metastasis in other sites. Invasive lobular breast carcinoma and malignant melanoma were the most common metastatic malignancies. The most common macroscopic appearance was the diffuse infiltrative type (Borrmann Type 4). Most of the metastatic lesions endoscopically mimicked primary gastric cancer. Furthermore, some of the metastatic lesions, particularly invasive lobular carcinoma of the breast and malignant melanoma, displayed histopathologic features similar to the primary gastric malignancies to a certain extent.
Conclusion: The possibility of metastatic involvement of stomach must be kept in mind while dealing with a gastric mass lesion in a cancer patient, even though the clinical and endoscopic features suggest primary gastric cancer. Our study points out the importance of conveying the information about medical history and clinical findings of the patients for correct pathologic differential diagnosis.
---