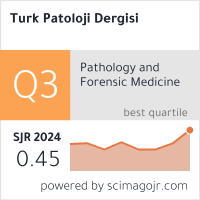 This journal is a member of, and subscribes to the principles of, the Committee on Publication Ethics (COPE)
2021, Volume 37, Number 3, Page(s) 212-218
DOI: 10.5146/tjpath.2021.01532
Cholemic Nephrosis: An Autopsy Study of a Forgotten Entity
Valli PRIYAA1, Bheemanathi Hanuman SRINIVAS2, Debasis GOCHHAIT2, Rajesh NACHIAPPA GANESH2, Bhawana A BADHE2, PS PRIYAMVADA3, Deepak AMALNATH4, Siddhartha DAS5, Kusa Kumar SHAHA5
1Department of Pathology, Indira Gandhi Medical College and Research Institute, PUDUCHERRY, INDIA
2Department of Pathology, Jawaharlal Institute of Postgraduate Medical Education and Research, PUDUCHERRY, INDIA
3Department of Nephrology, Jawaharlal Institute of Postgraduate Medical Education and Research, PUDUCHERRY, INDIA
4Department of Medicine, Jawaharlal Institute of Postgraduate Medical Education and Research, PUDUCHERRY, INDIA
5Department of Forensic Medicine and Toxicology, Jawaharlal Institute of Postgraduate Medical Education and Research, PUDUCHERRY, INDIA
Keywords: Bile, Toxin, Nephropathy
---
Objective:
The aim of the study is to do a clinicopathologic study of post mortem kidney biopsies with significant deposition of bilirubin pigment within tubular epithelial cells and in the lumen of distal tubules as a bile cast.
Material and Method: All post mortem specimens with acute tubular necrosis, with the presence of bile casts in tubules or bile pigment deposition in the tubular epithelium during the period 2015-2018 were examined for gross and histopathology along with biochemical parameters and viral markers.
Results: Bile casts with sloughed renal tubular epithelial cells and occasional macrophages were present in the distal convoluted tubule in 78.6% of biopsies (11/14). The plugging of distal convoluted tubule with casts was similar to that seen in myeloma and myoglobin cast nephropathies. Bilirubin pigment deposition was present in 35.7% (5/14) of cases. The frequency of bile casts in each biopsy was variable and it did not have any association with serum bilirubin levels or etiology of liver dysfunction. A striking difference from earlier studies is the high number of toxin-induced liver damage including six cases of paraquat and 2 cases of yellow phosphorus poisoning.
Conclusion: This study proves importance of the bile cast nephropathy as a reason for kidney injury, especially with varied hepatotoxic etiologies, especially paraquat and yellow phosphorus.
---