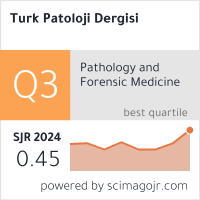 This journal is a member of, and subscribes to the principles of, the Committee on Publication Ethics (COPE)
2021, Volume 37, Number 3, Page(s) 219-225
DOI: 10.5146/tjpath.2021.01537
Peripheral Lymphadenopathy in Children: Cytomorphological Spectrum and Interesting Diagnoses
Arti KHATRI1, Nidhi MAHAJAN1, Sonali MALIK2, Kanika RASTOGI1, Parveen KUMAR3, Diganta SAIKIA4
1Department of Pathology, Chacha Nehru Bal Chikitsalaya, DELHI, INDIA
2Medical Student, Gajra Raja Medical College, GWALIOR, INDIA
3Department of Pediatric Surgery, Chacha Nehru Bal Chikitsalaya, DELHI, INDIA
4Department of Pediatric Medicine, Chacha Nehru Bal Chikitsalaya, DELHI, INDIA
Keywords: Lymphadenopathy, Cytology, Child, Lymphomas, Mycobacterium
---
Objective:
Peripheral lymphadenopathy is a common complaint in the pediatric outpatient department. Fine needle aspiration cytology is the first investigation of choice with a high sensitivity for diagnosis but cytology may be challenging in some cases. The study was planned to study the cytomorphological spectrum and discuss a few interesting cases.
Material and Method: 1890 paediatric subjects' up to 12 years of age with significant peripheral lymph node enlargement and an adequate cytology specimen were included in the study. Inadequate aspirates were excluded.
Results: The majority of children presented within 4-8 years of age with a male to female ratio of 1.7:1. The anterior cervical group was most commonly affected, followed by the posterior cervical, axillary and inguinal. Reactive lymphadenitis constituted the majority of the diagnoses, followed by Tuberculosis, acute suppurative, BCG-induced lymphadenitis, Kimura disease, Rosai-Dorfmann disease and Kikuchi-Fujimoto disease. Lymphomas and metastatic malignancies were less common, and mainly consisted of Hodgkin lymphoma, non-Hodgkin lymphoma, anaplastic large cell lymphoma, and Langerhans cell histiocytosis. Cytomorphological features of a few challenging and interesting cases have been discussed.
Conclusion: Non neoplastic causes of lymphadenopathy predominate in the pediatric age group. A definitive diagnosis rests upon a complete clinical, radiological, microbiological, and cyto-histopathological correlation with the use of ancillary techniques wherever necessary.
---