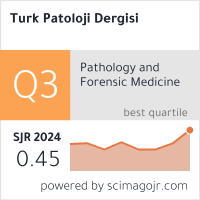 This journal is a member of, and subscribes to the principles of, the Committee on Publication Ethics (COPE)
2022, Volume 38, Number 1, Page(s) 016-024
DOI: 10.5146/tjpath.2021.01542
Detection of ALK Gene Rearrangements in Non-Small Cell Lung Cancer by Immunocytochemistry and Fluorescence in Situ Hybridization on Cytologic Samples
Suneel RACHAGIRI1, Parikshaa GUPTA2, Nalini GUPTA2, Manish ROHILLA2, Navneet SINGH3, Arvind RAJWANSHI2
1Department of Pathology, Post Graduate Institute of Medical Education and Research, CHANDIGARH, INDIA
2Department of Cytology and Gynaecologic Pathology, Post Graduate Institute of Medical Education and Research, CHANDIGARH, INDIA
3Department of Pulmonary Medicine, Post Graduate Institute of Medical Education and Research, CHANDIGARH, INDIA
Keywords: Lung adenocarcinoma, Non-small cell lung carcinoma, Anaplastic lymphoma kinase, ALK rearrangement, Fluorescence in situ hybridization, Immunocytochemistry, D5F3
---
Objective:
Determination of the molecular status is mandatory for personalized treatment of patients with non-small cell lung carcinoma. The present study was performed to detect anaplastic lymphoma kinase (ALK) rearrangements in pulmonary adenocarcinoma on cytology samples, using immunocytochemistry (ICC) and fluorescence in situ hybridization (FISH) on cell-blocks to assess the diagnostic reliability of these two techniques.
Material and Method: A total of 50 confirmed lung adenocarcinoma cases were included. In all the 50 cases, ICC was performed for ALK protein expression by using the D5F3 clone on Ventana platform. On the basis of ALK protein expression on ICC, the cases were categorized as ALK positive (2+ or 3+ strong cytoplasmic granular positivity) or negative (negative or 1+ cytoplasmic granular positivity). FISH for detection of ALK gene rearrangement was performed in 7 ALK ICC positive cases and 7 ALK ICC negative cases using the Vysis ALK break apart FISH probe kit.
Results: Based on ICC, 7(14%) cases were ALK positive and 43(86%) were ALK negative. ALK gene rearrangements in lung adenocarcinoma were more commonly seen in non-smokers (31.25%) as compared to smokers (6.25%). Among the ALK-ICC positive cases, FISH demonstrated break apart signal in 5 cases (ALK- ICC positive); however, no break-apart signals were seen in 2 ALK-ICC positive and all the seven ALK-ICC negative cases.
Conclusion: Immunocytochemistry on cell- blocks using DF53 clone is a highly sensitive and specific method for the detection of ALK gene rearrangements in lung adenocarcinoma with a greater number of ALK positive cases being detected on ICC as compared to the ALK-FISH.
---