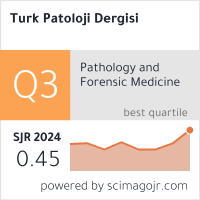 This journal is a member of, and subscribes to the principles of, the Committee on Publication Ethics (COPE)
2021, Volume 37, Number 3, Page(s) 239-248
DOI: 10.5146/tjpath.2021.01545
Prognostic and Predictive Significance of PD-L1 Expression in Non-Small Cell Lung Cancer Patients: A Single-Center Experience
Hacı ARAK1, Aydın AYTEKIN1, Ozlem CANOZ2, Metin OZKAN3
1Department of Medical Oncology, Gaziantep University School of Medicine, GAZIANTEP, TURKEY
2Department of Pathology, Erciyes University School of Medicine, KAYSERI, TURKEY
3Department of Medical Oncology, Erciyes University School of Medicine, KAYSERI, TURKEY
Keywords: Lung, Non-small cell cancer, PD-L1, H-score
---
Objective:
To investigate the prognostic and predictive value of PD-L1 expression in operated non-small cell lung cancer (NSCLC) patients and to analyze its relationship with clinicopathological factors.
Material and Method: A total of 90 patients with operable NSCLC were included in this retrospective single center study. Tumor blocks of patients were stained immunohistochemically with PD-L1 polyclonal antibody. When evaluated immunohistochemically and statistically, patients with tumor staining percentage of ≥5%, those with +2 and +3 membranous staining intensity, and those with ≥50% H-Score were considered positive. The relationship between PD-L1 expression status and clinicopathological features in addition to the prognostic effect of PD-L1 on survival were statistically analyzed.
Results: The frequency of PD-L1 expression was 37%, 15% and 5% according to the staining percentage, staining intensity, and the H-Score, respectively. There was no significant relationship between PD-L1 expression and age, gender, smoking, tumor stage and histological subtype (p> 0.05). However, PD-L1 expression was relatively higher in patients <65 years of age, men, smokers, patients with advanced tumor stage, and squamous cell subtype. Based on the analysis of the H-Score, no significant difference was noted regarding disease-free survival time between PD-L1 positive and PD-L1 negative patients (median 20 [95% CI 1.2-38.7] months vs. median 27 [95% CI 17.5-36] months, p=0.208). However, overall survival time was significantly shorter in PD-L1 positive compared to PD-L1 negative patients (median 24 months [95% CI 9.9-38] vs. median 48 months [95% CI 33.6-62.3], p=0.049).
Conclusion: In patients with high PD-L1 expression, the biological behavior of the cancer was more aggressive, and the life expectancy was shorter. PD-L1 expression seems to be a poor prognostic marker in NSCLC patients.
---