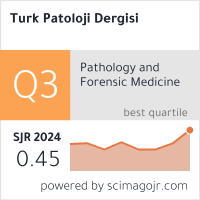 This journal is a member of, and subscribes to the principles of, the Committee on Publication Ethics (COPE)
2022, Volume 38, Number 2, Page(s) 122-132
DOI: 10.5146/tjpath.2021.01561
Causes of Granulomatous Inflammation in Native and Allograft Kidneys: Case Series from A Single Center and A Review of the Literature
Cihan HEYBELI1, Berna Demir YUKSEL21, Mehtat UNLU3, Mehmet Ası OKTAN4, Hayri Ustun ARDA5, Ozcan UZUN5, Filiz YILDIRIM5, Serkan YILDIZ6, Caner CAVDAR5, Aykut SIFIL5, Ali CELIK4, Sulen SARIOGLU3
1Division of Nephrology, Muş State Hospital, Muş, TURKEY
2Department of Internal Medicine, Dokuz Eylul University Hospital, Izmir, TURKEY
3Department of Pathology Dokuz Eylul University Hospital, Izmir, TURKEY
4Division of Nephrology, Baskent University Hospital, Izmir, TURKEY
5Dokuz Eylul University Hospital, Izmir, TURKEY, 6Medicana Hospital, Izmir, TURKEY
Keywords: Granuloma, Renal biopsy, Pathology, Renal
---
Objective:
Granulomatous interstitial nephritis is a rare finding, and etiology differs by geography. We aimed to investigate the distribution of causes of granuloma/granulomata in the kidney and renal survival of these patients in a tertiary care hospital in Western Turkey.
Material and Method: Medical records of adults who underwent a kidney biopsy procedure in our institution between January 2000 and June 2019 were reviewed. Pathology reports were searched for biopsies where a granuloma was identified.
Results: Nineteen of 1121 (1.7%) kidney biopsies included granuloma, 17 in native kidneys, and 2 in transplants. The majority of indications for native kidney biopsy was a rise in serum creatinine. Etiologies of granuloma included the following: pauci-immune vasculitis (n=11, 64.7%), tuberculosis (n=2, 11.8%), drug-induced (n=2, 11.8%), tubulointerstitial nephritis/uveitis (TINU) syndrome (n=1, 5.9%), and systemic-lupus erythematosus (n=1, 5.9%). Despite treatment, 6 of 11 (54.5%) patients with vasculitis developed end-stage kidney disease (ESKD) during the median follow-up of 16 months. Both of the patients with tuberculosis, and the patient with TINU syndrome developed ESKD months after the kidney biopsy, despite appropriate therapies. The only case with drug-induced granuloma and both cases with allograft kidney granuloma responded well to glucocorticoids, achieving a complete renal recovery.
Conclusion: The majority of our series had granuloma in the kidney secondary to vasculitis and renal outcomes appear considerably unfavorable despite treatment, probably related to the primary diagnosis. Multicenter studies are needed to better determine the etiology and outcome of each granuloma etiology at different geographic locations.
---