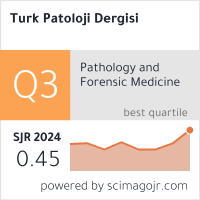 This journal is a member of, and subscribes to the principles of, the Committee on Publication Ethics (COPE)
2022, Volume 38, Number 2, Page(s) 133-141
DOI: 10.5146/tjpath.2021.01562
Hepatocellular Carcinomas with Granulomatous Inflammation In Tumor Stroma: Clinicopathologic Characteristics
Burcu SAKA1, Ferhat OZDEN1, Ayse ARMUTLU2, Gokhan ERTUGRUL3
1Department of Pathology, Istanbul Medipol University, School of Medicine, ISTANBUL, TURKEY
2Koc University, School of Medicine, ISTANBUL, TURKEY
3Department of General Surgery, Istanbul Medipol University, School of Medicine, ISTANBUL, TURKEY
Keywords: Hepatocellular carcinoma, Inflammation, Granuloma
---
Objective:
To determine the frequency of granulomatous inflammation within hepatocellular carcinoma (HCC) and its clinicopathologic associations.
Material and Method: Fifty-eight HCCs (51 explants, 3 lobectomies, and 4 segmentectomies) were reviewed.
Results: Five (8.6%) cases (F/M=1/4, mean age: 63.6) were identified with granulomas.1/5 had history of neoadjuvant therapy. 4/5 patients presented with early stage (pT1/2). All were well-differentiated (Grade1-2/4). The mean number of tumor foci was 3.6, with a median size of 2.2 cm. All of them had advanced fibrosis. No difference was identified from cases without granulomas (n=53) in terms of prognosis and aforementioned parameters (p> 0.05). Granulomas were mainly concentrated in peripheral parts of the tumors. One case with nodule-in-nodule formation had granulomas lined along the border of the inner nodule. In 2 cases, granulomas were identified in steatohepatitic areas, while another had clear cell change. Only 1 had necrotizing granulomas, none with acid resistant bacilli. Two cases revealed concomitant granulomas in the adjacent liver parenchyma in addition to the tumor stroma. Except for one with a history of tuberculosis, none of the cases had a granulomatous disease.
Conclusion: This is the largest case series of HCCs with granulomas by far. Our data revealed neither clinicopathologic and prognostic difference nor definite etiology related to granulomas. Yet, association with steatotic and clear tumor cells suggests the role of cytoplasmic content, while distribution of granulomas points to host immune response.
---