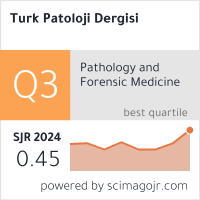 This journal is a member of, and subscribes to the principles of, the Committee on Publication Ethics (COPE)
2022, Volume 38, Number 3, Page(s) 219-226
DOI: 10.5146/tjpath.2021.01564
Analysis of DUX4 Expression in Bone Marrow and Re-Discussion of DUX4 Function in the Health and Disease
Ceren HANGUL1, Oznur TOKTA1, Sibel BERKER KARAUZUM1, Bahar AKKAYA2, Hulya YILDIRIM2, Funda TAYFUN KUPESIZ3, Ayse Nur AKINEL3
1Department of Medical Biology and Genetics, Akdeniz University, Faculty of Medicine, ANTALYA, TURKEY
2Department of Pathology, Akdeniz University, Faculty of Medicine, ANTALYA, TURKEY
3Department of Pediatric Hematology and Oncology, Akdeniz University, Faculty of Medicine, ANTALYA, TURKEY
Keywords: DUX4, Bone marrow, Hematopoietic progenitor cells, B-ALL, Cancer, Facioscapulohumeral muscular dystrophy
---
Objective:
DUX4 is an embryonic transcription factor (TF) later silenced in somatic tissues, while active in germline testis cells. Re-expression in somatic cells has been revealed to be present in pathologic conditions such as dystrophy, leukemia, and other cancer types. Embryonic cells, cancer cells and testis cells that show DUX4 expression are pluri-multipotent cells. This lead us to question "Could DUX4 be a TF that is active in certain types of potent somatic cells?" As a perfect reflection of the potent cell pool, we aimed to reveal DUX4 expression in the bone marrow.
Material and Method: Bone marrow aspiration materials of seven healthy donors aged between 3 and 32 (2 males/5 females) were investigated with qPCR analysis after RNA isolation for the presence of DUX4 full length mRNA expression. Samples have been investigated for protein existence of DUX4 via immunohistochemistry in two donors that had sufficient aspiration material.
Results: DUX4 mRNA expression was present in all donors, with higher expression compared to B-actin. DUX4 positive stained cells were also detected by immunohistochemistry.
Conclusion: With these results, novel expression for DUX4 in hematopoietic tissue is described. Further studies on the function of DUX4 in hematopoietic cells can shed light on DUX4-related pathways, and contribute to the treatment of DUX4-related diseases such as B-ALL, other cancers, and facioscapulohumeral muscular dystrophy.
---