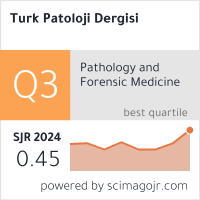 This journal is a member of, and subscribes to the principles of, the Committee on Publication Ethics (COPE)
2023, Volume 39, Number 1, Page(s) 055-063
DOI: 10.5146/tjpath.2022.01588
cERBB-2/Her-2 Neu Overexpression and Prognostic Significance in Uterine Carcinosarcoma
Huseyin Salih SEMIZ1, Emel Ebru PALA2, Behzat CAN3, Elif ATAG4, Hatice GUNGOR4, Muzaffer SANCI3
1Department of Medical Oncology, Dokuz Eylül University Institute of Oncology, IZMIR, TURKEY
2Department of Pathology, Health Science University, Tepecik Education and Research Hospital, IZMIR, TURKEY
3Department of Gynecological Oncology, Health Science University, Tepecik Education and Research Hospital, IZMIR, TURKEY
4Department of Medical Oncology, Health Science University, Istanbul Haydarpaşa Numune Education and Research Hospital, ISTANBUL, TURKEY
Keywords: Carcinosarcoma, Her-2/neu, Prognosis, Uterine cancer
---
Objective:
There is not enough data in the literature regarding Her-2 overexpression in uterine carcinosarcomas or its association with the prognosis. The aim of this study was to determine the Her-2 overexpression rate in uterine carcinosarcoma and to evaluate its relationship with the prognosis.
Material and Method: Her-2 protein and gene status were evaluated by immunohistochemistry (IHC) and fluorescence in situ hybridization (FISH), respectively, in hysterectomy specimens from 51 patients with uterine carcinosarcoma.
Results: Her-2 protein expression in the epithelial component was negative in 42 patients (score 0 in 33 cases, score (+1) in 9 cases), score (+2) in 7 patients and score (+3) in 2 patients. None of the patients had Her-2 protein expression within the sarcomatous component of the tumors. Her-2 gene was not amplified in epithelial or mesenchymal tumor areas according to the FISH method. There was no difference between the Her-2 overexpression negative and positive groups in terms of disease-free survival (DFS) and overall survival (OS). Her-2 overexpression was significantly higher in tumors of patients diagnosed at 65 years or older (p=0.046).
Conclusion: In our study, no relationship could be shown between Her-2 overexpression and prognosis in uterine carcinosarcoma. More comprehensive studies are needed to illustrate the relationship between Her-2 overexpression and carcinosarcoma prognosis.
---