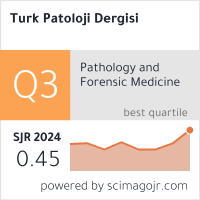 This journal is a member of, and subscribes to the principles of, the Committee on Publication Ethics (COPE)
2023, Volume 39, Number 3, Page(s) 192-198
DOI: 10.5146/tjpath.2023.01599
Skin Lesions in Children: Evaluation of Clinicopathological Findings
Begum CALIM-GURBUZ1, Burcin PEHLIVANOGLU2, Tuce SOYLEMEZ-AKKURT1, Ozan ERDEM3, Anvar AHMEDOV4
1Department of Pathology, 1Basaksehir Cam and Sakura City Hospital, ISTANBUL, TURKEY
2Dokuz Eylul University Faculty of Medicine, IZMIR, TURKEY
3Department of Dermatology, Reconstructive and Aesthetic Surgery, Basaksehir Cam and Sakura City Hospital, ISTANBUL, TURKEY
Department of Plastic, Reconstructive and Aesthetic Surgery, Basaksehir Cam and Sakura City Hospital, ISTANBUL, TURKEY
Keywords: Children, Skin, Neoplastic, Inflammatory, Lesion
---
Objective:
Pediatric skin diseases may show various manifestations, occasionally affecting the patients' quality of life. Histopathological examination may be required for the diagnosis. The aim of this study was to evaluate the spectrum of clinicopathological features in pediatric skin lesions.
Material and Method: A total of 368 biopsies of 359 consecutive patients were included. The clinicopathological findings were retrospectively evaluated. Non-neoplastic (inflammatory) lesions (ILs) (n=186) were grouped per their origin, while neoplastic/proliferative lesions (NPLs) (n=182) were grouped based on their pattern. The clinical and histopathological characteristics were statistically analyzed.
Results: 51% were male and the median age was 10.4±4.9 years (range 0-17). ILs mainly involved the head and neck, and NPLs were mostly located in the lower extremity (p<0.001). The most common NPLs were benign nevus (18%, n=33) and pilomatrixoma (15%, n=27), while the most frequent IL was spongiotic/psoriasiform dermatitis (38%). Skin appendage/connective tissue tumors were the largest among NPLs (p=0.02). NPLs were more frequently seen in children >12 years old compared to ILs (p=0.03). The discordance rate between clinical and histopathological diagnoses was higher for NPLs (27% vs. 15%).
Conclusion: Although the spectrum of skin lesions is broad in pediatric patients, most are benign in nature. The higher frequency of melanocytic and/or cystic lesions among children >12 years old may be attributed to increased self-care during puberty. Neoplastic/proliferative lesions of childhood seem to be less commonly recognized by clinicians, and a multidisciplinary approach remains the optimal method, considering the relatively high rate of discordance between the clinical and histopathological diagnoses.
---