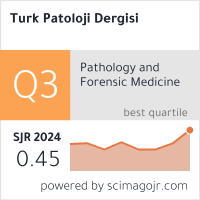 This journal is a member of, and subscribes to the principles of, the Committee on Publication Ethics (COPE)
2002, Volume 18, Number 1-2, Page(s) 003-014
SENSITIVITY AND SPECIFICITY OF VARIOUS DIFFERENTIATION ANTIGENS IN NEVO-MELANOCYTIC LESIONS: COMPARISON OF MART-1/Melan-A, TYROSINASE AND HMB45 WITH S100 AND NKI/C3.
Nesimi BÜYÜKBABANİ
İ. Ü. İstanbul Tıp Fakültesi Patoloji Anabilim Dalı
---
Differential diagnosis of naevo-melanocytic lesions from other tumors is a relatively frequent problem. Immunohistochemistry is a valuable tool for the purpose and has been used for a long time. A panel of three antibodies that recognise melanocyte differentiation antigens MART-1/Melan-A, Tyrosinase and HMB45 has been compared to S100 and NKI/C3. Reactivity pattern has been assessed on a group of benign and malignant melanocytic lesions and a group of non-melanocytic tumors. The aim of this investigation was to determine the sensitivity and specificity of each antibody. Immunohistochemistry has been performed on paraffin-embedded archival material. Anti-S100 proved to be the antibody that showed the strongest and diffuse reaction in all benign and malignant melanocytic lesions. 12/28 naevi, 13/25 primary melanomas and 8/11 metastatic melanomas were labelled with NKI/C3, which showed to be the least sensitive for nevo-melanocytic lesions among all other antibodies. MART-1/Melan- A and Tyrosinase antibodies reached a comparable sensitivity level to S100 and were the most specific of all five antibodies tested. In naevi, these two stained superficial nevus cells more strongly than deep, spindle shaped cells. HMB45 has reached 87.5% sensitivity and 88.88% of specificity. Junctional and intraepidermic cells showed the strongest labelling with HMB45 in both naevi and melanomas. It is concluded that with their high sensitivity and specificity for naevo-melanocytic lesions, MART-1/Melan-A and Tyrosinase can be useful tools in the immune panel. Given their high accuracy, they can replace HMB45 as the traditional companion to S100. For melanoma micrometastasis detection in sentinel lymph node biopsies, these two antibodies seem to have some qualitative superiority over S100.
---