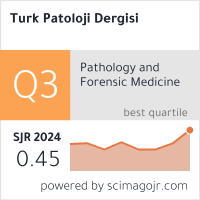 This journal is a member of, and subscribes to the principles of, the Committee on Publication Ethics (COPE)
2001, Volume 17, Number 1-2, Page(s) 014-017
THE EVALUATION OF INTRAOPERATIVE PATHOLOGY CONSULTATION IN HAYDARPAŞA NUMUNE HOSPITAL BETWEEN 1994-1998.
Neşe KARADAĞ, Önder PEKER
İnönü Üniversitesi Turgut Özal Tıp Merkezi Patoloji Anabilim Dalı, SB Haydarpaşa Numune Hastanesi Patoloji Bölümü
---
Frozen section known as immediate pathologic diagnosis which is required intraoperatively. However because of increasing cytologic examination, frequency of making frozen sections decreased. In the literature, using the statement of intraoperative pathology consultation is becoming common. In this study 778 intraoperative pathology consultations, that were made in the Pathology Department of Haydarpa.a Numune Hospital between 1994-1998, were examined retrospectively. In cases where intraoperative pathology consultation diagnosis could be reached, the results were compared with the paraffin section diagnosis; in disparate diagnosis and deferred cases, archival slides were interpreted again, regardless of their first diagnosis. In Haydarpa.a Numune Hospital frequency of intraoperative pathology consultation was 1.8%. Diagnosis had been deferred in 1.8% of the cases. Overall accuracy rate, rates of false negatives and false positives were found 97.9%, 1.2% and 0.7%, respectively.
---