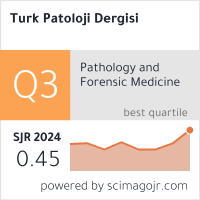 This journal is a member of, and subscribes to the principles of, the Committee on Publication Ethics (COPE)
2001, Volume 17, Number 3-4, Page(s) 087-089
EPIDERMOID CYST OF THE TESTIS.
Kemal BEHZATOĞLU, Burak BAHADIR, Gökhan TOKTAŞ, Cabbar SARI, Yaşar ÜNLÜ, Canan TOPÇUOĞLU
SSK İstanbul Eğitim Hastanesi Patoloji Bölümü, SSK İstanbul Eğitim Hastanesi Üroloji Servisi, SSK Eyüp Hastanesi Patoloji Laboratuarı
---
Although epidermoid cysts are uncommon masses in the testis, their pathogenesis are still under discussion. They must be distinguished from teratomas and dermoid cysts. Especially the distinction from teratomas is much more important because of their malignant potential. Our case represents a patient, aged 31, suffering from a painless mass, measuring 4 cm in its greatest dimension in his left testis. Histologically, a fibrous wall was lined by keratinized squamous epithelium without skin appendages. Considering the pathogenesis, differential diagnosis and treatment, we think that this case is worth of discussion.
---