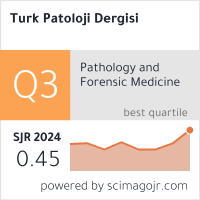 This journal is a member of, and subscribes to the principles of, the Committee on Publication Ethics (COPE)
2003, Volume 19, Number 3-4, Page(s) 074-075

PRIMARY EPITHELOID ANGIOSARCOMA OF THYROID GLAND: A CASE REPORT

Gülüşan ERGÜL, Deniz ARIK, Sevgi CAMBOLAT, Levent ALBAYRAK

Ankara Numune Eğitim ve Araştırma Hastanesi Patoloji Bölümü

Angiosarcoma is a rare primary neoplasm of thyroid. According to the literature, angiosarcoma accounts 2% of all sarcomas and occurs rarely on head-neck region. Epitheloid angiosarcoma of thyroid was first described in 1990. It is composed of anastomosing vascular-like spaces which are lined with epitheloid cells that are immunreactive for cytokeratin and vascular markers. These tumors were considered as angiomatoid anaplastic carcinoma. Today by the immunohistochemical technics and electron microscopic studies diagnosis of angiosarcoma can be established. In this paper 74-year old male patient who had "malignancy" diagnosis in cytology and "epitheloid angiosarcoma" diagnosis in histopathologic study is presented. Cytologic and histopathologic features of the angiosarcoma that is extremely rare in thyroid gland is discussed.