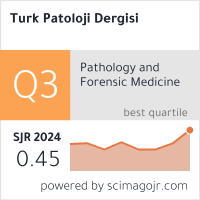 This journal is a member of, and subscribes to the principles of, the Committee on Publication Ethics (COPE)
2004, Volume 20, Number 3-4, Page(s) 057-059

EFFECTS OF TAMOXIFEN ON THE CYTOLOGY OF THE UTERINE CERVIX; SMALL BLUE CELLS AND ALTERATION OF MATURATION

Yeşim GÜRBÜZ, Nur KÖSE

Kocaeli Üniversitesi Tıp Fakültesi Patoloji ABD

Tamoxiphen is an anti-estrogenic agent that is commonly used in breast cancer chemotherapy. Its hormonal effect on uterine cervix is controversial and some small blue cells of unknown origin are reported in vaginal smears with tamoxiphen therapy. The aim of this study is to evaluate the cytological changes on uterine cervix with tamoxiphen exposure. Therefore we reevaluated 72 smears of 37 patients and 12 pretreatment smears as control group. Mean maturation value was calculated and pyknosis and small blue cells were evaluated in each case. The mean maturation value was 60 in non-menopausic and 43 in menopausic group. The difference of mean maturation before and after tamoxiphen treatment was statistically signigicant (86 vs 46)(p<0.003). Small blue cells were observed in 6 cases. In conclusion tamoxifen has anti-estrogenic effect on uterine cervix. Small blue cells that originate from endocervical reserve cells maybe observed and cause differential diagnostic problems with endometrial cells.