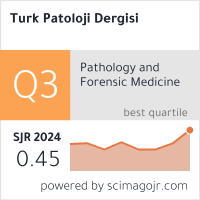 This journal is a member of, and subscribes to the principles of, the Committee on Publication Ethics (COPE)
2004, Volume 20, Number 3-4, Page(s) 073-075

JADASSOHN-PELİZZARİ TYPE ANETODERMA: REPORT OF TWO CASES

Başak Kandi COŞKUN, Dilara TURGUT, Nusret AKPOLAT, Demet ÇİÇEK

Fırat Üniversitesi Tıp Fakültesi Dermatoloji AD , Fırat Üniversitesi Tıp Fakültesi Patoloji AD

Anetoderma is a term used to describe localized increased laxity of the skin resulting from abnormal dermal elastic tissue. Currently, anetoderma is classified as either primary (idiopathic), or secondary anetoderma. Primary anetoderma is distinctly rare. We describe two patients with clinical and histopathologic features of primary anetoderma (Jadassohn-Pelizzari type).