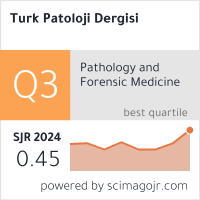 This journal is a member of, and subscribes to the principles of, the Committee on Publication Ethics (COPE)
2002, Volume 18, Number 3-4, Page(s) 057-060

RETINOBLASTOMAAND IT'S RELATIONSHIP WITH CLINICOPATHOLOGICAL PROGNOSTIC PARAMETERS

Işıl PAKİŞ, Cuyan DEMİRKESEN, Murat YOLAR, Gültekin KANER

Adalet Bakanlığı Adli Tıp Kurumu, İstanbul Üniversitesi Cerrahpaşa Tıp Fakültesi Patoloji Anabilim Dalı, İstanbul Üniversitesi Cerrahpaşa Tıp Fakültesi Göz Hastalıkları Anabilim Dalı

Retinoblastoma, is one of the most common childhood malignancies. Fifty five patients with retinoblastoma (44 unilateral, 11 bilateral) have been examined, between 1984-1996 in Cerrahpa.a Medical School Pathology Deparment. We examined the parameters as tumor size, growth patern, sclera, choroid, optic nerve invasion and DNA ploidy pattern and S-phase fraction were evaluated by flow-cytometry. Many clinicopathologic studies have been made in an attempt to determine which gross and microscopic features of retinoblastoma have prognostic value. These studies have yielded conflicting conclusions. Reported risk factors for metastasis from retinoblastoma include orbital invasion, optic nerve invasion, and possibly choroidal invasion of retinoblastoma. In conclusion, our results showed that the optic nerve, choroid, sclera invasion were poor prognostic factors.