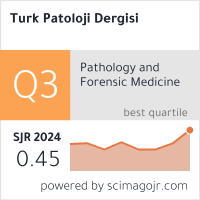 This journal is a member of, and subscribes to the principles of, the Committee on Publication Ethics (COPE)
2002, Volume 18, Number 1-2, Page(s) 025-027

LOW MALIGNANT POTENTIAL TRANSITIONAL CELL TUMOR OF OVARY.

Seyran YİĞİT, Demet ETİT, Ayşegül (AKDER) SARI, Aşkın YILDIZ

İzmir Atatürk Eğitim Hastanesi Patoloji Bölümü, İzmir Atatürk Eğitim Hastanesi Kadın Doğum Kliniği

Transitional cell tumors of ovary account for 2%-3% of all ovarian neoplasms. According to the revised WHO classification, subgroups of these tumors consist of Brenner tumor, proliferating (borderline) Brenner tumor, malignant Brenner tumor, and non-Brenner tumor (transitional cell carcinoma). In this article, a 45 year old woman who had a right ovarian mass diagnosed as "low malignant potential transitional cell tumor" is reported and it is discussed with the help of associated literature.