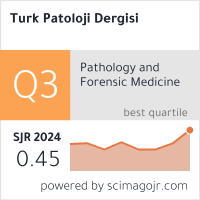 This journal is a member of, and subscribes to the principles of, the Committee on Publication Ethics (COPE)
2003, Volume 19, Number 1-2, Page(s) 011-013

THE EVALUATION OF FROZEN SECTION IN ZEYNEP KAM‹L HOSPITAL BETWEEN 2000-2002 AND TUMORS CAUSING DIFFICULTY IN DIAGNOSIS

Gözde KIR

Zeynep Kamil Hastanesi Patoloji Bölümü, İstanbul

We compared the results of 225 gynecological frozen section diagnosis with their final diagnosis from January 2000 to April 2002. In Zeynep Kamil Hospital the frequency of frozen section was 1% . 153 ovarian tissue samples were obtained. The frozen section diagnosis for ovary was compatible with the final diagnoses in 94.4% of cases. 3.92% of cases were falsely negative and 0.65% of cases were falsely positive. The sensitivity rate of frozen section diagnosis for benign, borderline and malignant lesions were found to be 99.0% (107/108), 60% (6/10) and 94.1% (32/34), respectively.