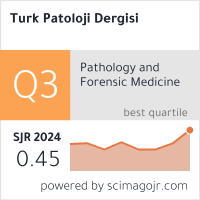 This journal is a member of, and subscribes to the principles of, the Committee on Publication Ethics (COPE)
2001, Volume 17, Number 1-2, Page(s) 025-027

c-erbB-2 OVEREXPRESSION IN IN SITU AND INVASIVE BREAST CARCINOMA AND ITS RELATIONSHIP TO OTHER PROGNOSTIC PARAMETERS

Nagehan ÖZDEMİR BARIŞIK, Nilüfer ONAK KANDEMİR, Aylin EGE GÜL, Sibel ŞENSU, Dilek YAVUZER, Nimet KARADAYI

S.B. Dr. Lütfi Kırdar Eğitim ve Araştırma Hastanesi Patoloji Bölümü

The purpose of this study was to investigate c-erbB-2 oncoprotein expession in female breast carcinoma and to compare it with other prognostic parameters. The expression of c-erbB-2 oncoprotein was studied immunohistochemically in paraffin embedded biopsy specimens of 46 invasive ductal carcinoma with in situ component and was analysed in relation to histological grade, necrosis, lymphocytic infiltration, stromal elastosis and vascular invasion. High grade tumors with invasive or in situ component showed higher c-erbB-2 expression than low grade tumors. The c-erbB-2 protein was also related to the stromal elastosis in invasive areas. A significant association between c-erbB-2 expression and lymphocytic infiltration, necrosis, vascular invasion was not determined. The results suggest that c-erbB-2 expression can be used as a valuable prognostic parameter in predicting the biological behavior of female brest carcinoma.