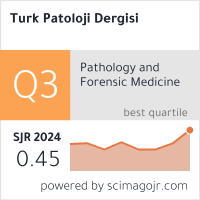 This journal is a member of, and subscribes to the principles of, the Committee on Publication Ethics (COPE)
2001, Volume 17, Number 3-4, Page(s) 072-074

CORRELATION BETWEEN CERVICAL CYTOLOGIC RESULTS AND GRAM STAIN FOR DIAGNOSIS OF VAGINAL INFECTION

Çiğdem TOKYOL, Orhan Cem AKTEPE, Fatma AKTEPE, Mustafa ALTINDİŞ, Fatma Hüsniye DİLEK

Kocatepe Üniversitesi Tıp Fakültesi Patoloji Anabilim Dalı, Afyon, Kocatepe Üniversitesi Tıp Fakültesi Mikrobiyoloji Anabilim Dalı, Afyon

The purpose of this investigation was to determine the reliability of the cervical smear in making the diagnosis of vaginal infection with the vaginal Gram stain used as the diagnostic standard. The cervical smear and vaginal swab specimens of 208 women who referred to the laboratories of Pathology and Microbiology in our hospital between January 2000-July 2001 were examined retrospectively. The sensitivity and specificity of the cervical smear were determined with Gram stain used as the standard for diagnosis of vaginal infection. Compared to the Gram stain, cervical cytologic test results had a sensitivity of % 36.84 and a specificity of % 97.35 for the diagnosis of bacterial vaginosis. The results of our study show that the cervical smear is not an adequate screening test for vaginal infection.