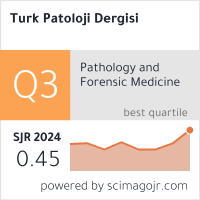 This journal is a member of, and subscribes to the principles of, the Committee on Publication Ethics (COPE)
2003, Volume 19, Number 1-2, Page(s) 017-021

TELOMERASE ACTIVITY AND Ki-67 EXPRESSION IN OSTEOSARCOMA(CLINICOPATHOLOGICAL ANALYSIS IN 35 CASES)

Bilge BİLGİÇ

İstanbul Üniversitesi, İstanbul Tıp Fakültesi, Patoloji Anabilim Dalı, İstanbul

Osteosarcoma is defined as a high grade sarcoma with osteoid production. It is the most common sarcoma arising from bone in children and young adults. Five year survival of osteosarcoma is about 70% thanks to the improvements in medical oncology. Many studies were performed, about the role of suppressor gens, oncogenes, adhesion molecules, multi-drug resistance gens on prognosis and pathogenesis of osteosarcoma. This study includes 35 patients, having prognostic data and adequate material for the immunohistochemical analysis. Nineteen patients were female. The mean age was 19. The most affected site was distal femur. In 20 patients lung metastases developed. The survival was lower in metastatic cases, significantly. For the immunohistochemical method, primary tru-cut or incisional biopsies without decalcification were used. Mean Ki-67 index was 17.5%. There was no significant relation between the survival and the proliferation index, the relation between the histologic response and survival was also insignificant. Telomerase activity was absent in 10 cases and the mean activity in remaining cases was 7.23%, showing a wide range as in Ki-67. There was no significant correlation between survival and telomerase activity. Many factors may have influence on necrosis and prognosis. According to our results telomerase activity and Ki-67 don't seem to have a primary role on the survival. The absence of telomerase activity in 10 cases, let us think about possible technical problems in demonstrating this enzymatic activity immunohistochemically.