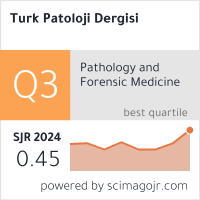 This journal is a member of, and subscribes to the principles of, the Committee on Publication Ethics (COPE)
2003, Volume 19, Number 1-2, Page(s) 022-025

EVALUATION OF THE HISTOPATHOLOGICAL FINDINGS OF THE BIOPSIES WHICH WAS SENT WITH CLINICAL DIAGNOSIS OF RADIATION COLITIS

Özlem CANÖZ, Serdar SOYUER, Şebnem GÜRSOY, Işın SOYUER, Fatma TOKAT

Erciyes Üniversitesi Tıp Fakültesi, Patoloji Anabilim Dalı, Erciyes Üniversitesi Tıp Fakültesi, Radyasyon Onkolojisi Anabilim Dalı, Erciyes Üniversitesi Tıp Fakültesi, Gastroenteroloji Anabilim Dalı, Kayseri

The aim of this study is to reevaluate the histopathological findings of the biopsies which was sent with the pre-diagnosis of radiation colitis and to review the histopathological findings of the acute and chronic radiation colitis. Materials and methods: The histologic slides of the twelve endoscopic biopsy specimens which had been prepared from parafin blocks and than stained with Haematoxylin-Eosin, were reexamined with light microscopy. Results: Two of the cases were diagnosed acute radiation colitis, and four of them chronic radiation colitis, one of them ulcerative colitis and four of them normal colonic mucosa. One of the cases was diagnosed as colitis due to chemotherapeutics. One case was rediagnosed as chronic radiation colitis, which was diagnosed as normal colonic mucosa at first. Conclusion: There may be difficulties in the diagnosis and differential diagnosis of the radiation colitis. If there are suspicious microscopical findings, it may be helpful to reach the endoscopic and clinical informations of the patient.