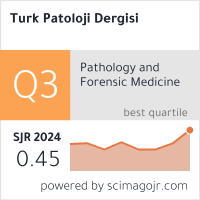 This journal is a member of, and subscribes to the principles of, the Committee on Publication Ethics (COPE)
2000, Volume 16, Number 1-2, Page(s) 053-056

p53 EXPRESSION IN PROSTATIC CARCINOMAS: ITS RELATION TO THE HISTOPATHOLOGICAL PARAMETERS AND APOPTOSIS

Çiğdem ATAİZİ ÇELİKEL, Handan KAYA, Bio. Msc. Gülsün EKİCİOĞLU, Sevgi KÜLLÜ

Marmara Üniversitesi Tıp Fakültesi, Patoloji Anabilim Dalı, Marmara Üniversitesi Sağlık Hizmetleri Yüksek Okulu

This study was designed to evaluate the immunohistochemical expression of p53 according to the stage, Gleason score, and WHO grade of the prostatic adenocarcinomas and to determine the association between the expression of p53 and apoptosis. p53 positivity was statistically related to the WHO grade but not to the Gleason score and pathological stage of the prostatic carcinomas. When the tumors were grouped according to the stage and grade there was a significant difference between p53(-) and p53(+) cases in respect to the apoptotic index in early stage and low grade tumors which could not be demonstrated in high grade and late stage. Our results revealed that although p53 mutations are usually late events in prostatic adenocarcinomas, the apoptotic role of p53 is evident only in early stage and low grade tumors.