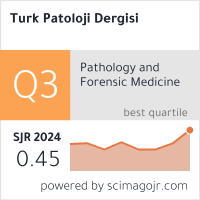 This journal is a member of, and subscribes to the principles of, the Committee on Publication Ethics (COPE)
2004, Volume 20, Number 1-2, Page(s) 014-017

THE EFFECT OF ANGIOGENESIS TO THE PROGNOSTIC FACTORS IN INVASIVE CERVIX CARCINOMAS

Özlem SARAYDAROĞLU, Semra ÖZUYSAL, Tufan BİLGİN

Uludağ Üniversitesi Tıp Fakültesi Patoloji Anabilim Dalı, Uludağ Üniversitesi Tıp Fakültesi KHD Anabilim Dalı

Association among angiogenesis, survival and clinicopathologic parameters in invasive cervical carcinoma was evaluated. 55 patients who had been diagnosed as cervical carcinoma, from 1995 to 2000, were included in the study. Punch biopsies were performed in 11 (20%) of the cases and Wertheim operation was performed in 44 (80%) of the patients. Factor VIII-related antigen expression was examined using immunohistochemistry. The area with the most intensified microvasculature was determined under low-power (x100) magnification, and the count of this area under high-power (x400) magnification was determined as microvessel density (MVD)of the tumor.The value of MVD was grouped as high, middle and low. Statistical analysis was performed. There was positive correlation between MVD increase and lymph node metastasis (p<0.05). There were no differences between MVD and age, dimension of the tumor, histopathological type, grade and clinical stage. No significant difference was established between the groups with low, moderate and high MVD. In conclusion, we agree that in cervical carcinomas, increased angiogenesis is associated with lymph node metastasis and it can be a beneficial prognostic parameter in predicting metastatic potential of cervical carcinoma.