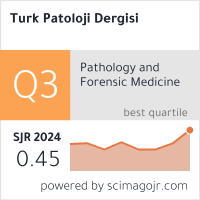 This journal is a member of, and subscribes to the principles of, the Committee on Publication Ethics (COPE)
2004, Volume 20, Number 1-2, Page(s) 018-022

FINE NEEDLE ASPIRATION FINDINGS OF GASTROINTESTINAL STROMAL TUMOR: REPORT OF TWO CASES

Mine G. GÜLLÜOĞLU, Dilek YILMAZBAYHAN, Yersu KAPRAN, Koray ACARLI, Ferhunde DİZDAROĞLU

İstanbul Üniversitesi İstanbul Tıp Fakültesi Patoloji Anabilim Dalı, İstanbul Üniversitesi İstanbul Tıp Fakültesi Genel Cerrahi Anabilim Dalı

In this report, we aim to discuss the cytomorphological features of gastrointestinal stromal tumors, which are the most common mesenchymal tumors of the gastrointestinal canal. We also point out the role of cytopathology in the diagnostic approach to these tumors and review the literature. We present two patients, one of which admitted to the hospital with metastatic liver masses and the other with an intrathoracic mass. Both cytological findings in the fine needle aspiration materials and histological features in the resection materials were assessed in detail for comparison.