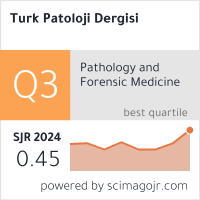 This journal is a member of, and subscribes to the principles of, the Committee on Publication Ethics (COPE)
2001, Volume 17, Number 1-2, Page(s) 046-048

ASTROBLASTOMA: CASE REPORT

İlhan ELMACI, İclal GÜRSES, Özlem KURTKAYA, Aydın SAV, M. Necmettin PAMİR

Marmara Üniversitesi Nörolojik Bilimler Enstitüsü, Nöroşirürji Bölümü, Marmara Üniversitesi Nörolojik Bilimler Enstitisü, Prof. Dr. Talia Balı Aykan Patoloji Laboratuvarı

Astroblastomas are rare tumors of central nervous system and their incidence are 0.45-2.8% among all intracranial gliomas. They occur frequently in children and young adults and in the supratentorial location. Histopathologically differentiation of astroblastomas from ependymomas is difficult. The presented case is a 16 years old female with a recurrent astroblastoma which previously, on two occasions was diagnosed as an ependymoma.