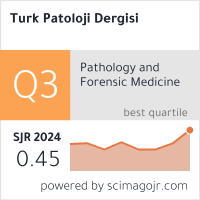 This journal is a member of, and subscribes to the principles of, the Committee on Publication Ethics (COPE)
2004, Volume 20, Number 1-2, Page(s) 029-030

AMNIOTIC FLUID EMBOLISM AS A CAUSE OF SUDDEN DEATH: A CASE REPORT

Işıl PAKİŞ, Ferah KARAYEL, Arzu AKÇAY TURAN, Büge ÖZ, Gürsel ÇETİN

Adli Tıp Kurumu Morg İhtisas Dairesi ve Marmara Üniversitesi Sağlık Bilimleri Enstitüsü Adli Tıp Doktora Programı, İ.Ü. Cerrahpaşa Tıp Fakültesi Patoloji Anabilim Dalı, İ.Ü. Cerrahpaşa Tıp Fakültesi Adli Tıp Anabilim Dalı

Amniotic fluid embolism is a serious but uncommon complication of labor and immediate postpartum period. It has a mortality rate which exceeds 80% and as other obstetric complications (e.g., eclampsia, pulmonary embolism, hemorrhage, infection) have been rather controlled, amniotic fluid embolism has become an important cause of maternal mortality. A thirty six years old woman who died after normal spontaneus delivery has been autopsied. The lungs were edematous in appearance. On microscopic examination we found congestion, edema and many squamous cells in capillaries and arterioles. In conclusion, the case is presented as an uncommon and fatal complication of pregnancy.