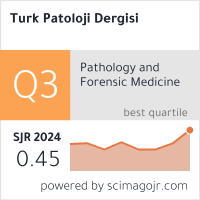 This journal is a member of, and subscribes to the principles of, the Committee on Publication Ethics (COPE)
2000, Volume 16, Number 1-2, Page(s) 013-014

DETECTION OF HPV IN THE TRANSITIONAL CELL CARCINOMA OF THE URINARY BLADDER USING IN SITU HYBRIDIZATION

Handan KAYA, Esin KOTİLOĞLU, Gülsün EKİCİOĞLU, Süheyla Uyar BOZKURT, Sevgi KÜLLÜ

Marmara Üniversitesi Tıp Fakültesi Patoloji Anabilim Dalı

Recently published data have suggested a link between active human papillomavirus (HPV) infection and the development of bladder cancer. The aim of our study was to detect HPV DNA in of transitional cell carcinomas of the urinary bladder. We analysed a series of 30 formalin-fixed, paraffin-embedded transitional cell carcinomas of the urinary bladder for the presence of HPV DNA by using in situ hybridization technique. HPV DNA was detected in %3,3 (1/30) of the cases.Our results suggest that HPVDNA may play a minor role in the transitional cell carcinoma development in the urinary bladder.